I wasn't as crazy about this as a lot of people seem to be, perhaps mostly due to the irritating, lisping narration on the audiobook version I listened to. It's a nice little story, about a boy (August, or 'Auggie') born with abnormalities that mean his face is 'messed up' so that he's 'ugly' and even scary to look at. We follow his journey as he learns to fit in and cope with life in school after years of homeschooling, and there are all the challenges of bullying and unkindness that you would expect.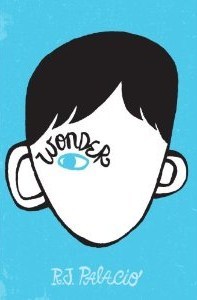 There was nothing surprising or memorable about Wonder, (with the possible exception of the Daisy episode, which felt unnecessary to me as it was horribly sad and added nothing to the plot) it just kept plodding on with inevitable predictability. Despite the whole book supposedly being about the huge change and 'character development' in Auggie following a year at school, he seemed more or less the same at the end as the beginning. His circumstances had changed but he was the same relatively upbeat and slightly (if understandably) self indulgent kid. I found the sweetness and understanding demonstrated by the teachers unrealistic and even cloying in places. Given the limited interactions between them and Auggie, I found the award ceremony, people's emotional responses and the standing ovation a bit surreal. Everyone was so NICE, and the ends tied up so prettily. The whole thing was WAY too Hollywood, (and possibly a bit too Christian to boot).
We didn't get to know most of the characters very well, and they were all one-dimensional, with lives revolving entirely around Auggie. I would have been interested to know more about other aspects of their lives (relationships, work, aspirations) and how these were impacted/impacted on Auggie's life. We did get some frustrating glimpses but they weren't explored any further.
What made the kids' attitudes towards Auggie change? How did Summer's dad's death affect her and why? What was going on with Melanie's parents – would she ever talk to Via about it? What was the relationship between Via's grandma and her mother, given that the grandma tells Via that she is her favourite person -how? why?! All these things were unresolved so it was kind of annoying that they were mentioned at all.
I am now halfway through another book, 'When Mr. Dog bites' by Brian Conaghan. It has some similar themes, also being centred around a boy who is 'different' (this boy is a few years older and has Tourette's Syndrome), and focussing on the issues surrounding this. However, the writing is vastly superior – it is funny and clever, and although the Tourette's issue is ever-present in the very language used in the book, it doesn't hijack all the storylines the way Auggie does in Wonder.
To summarise, Wonder lacks the grit and realism it would need to be really moving. I just felt that a real boy like Auggie would suffer huge angst and emotional torment, especially at this age, and this wasn't portrayed at all in the happily-ever-after, shiny-rainbow-positivity of this book. I appreciate that my view might be tainted because, as a Brit, it all felt a bit Americanised to me, and that's something I'm not used to (although I probably should be by now!). To be clear, I didn't hate it, or regret reading it, and it did lead me to look up some interesting real cases of managing Treacher Collins syndrome, which honestly deserve such admiration. It was just a bit vanilla.
2 stars.